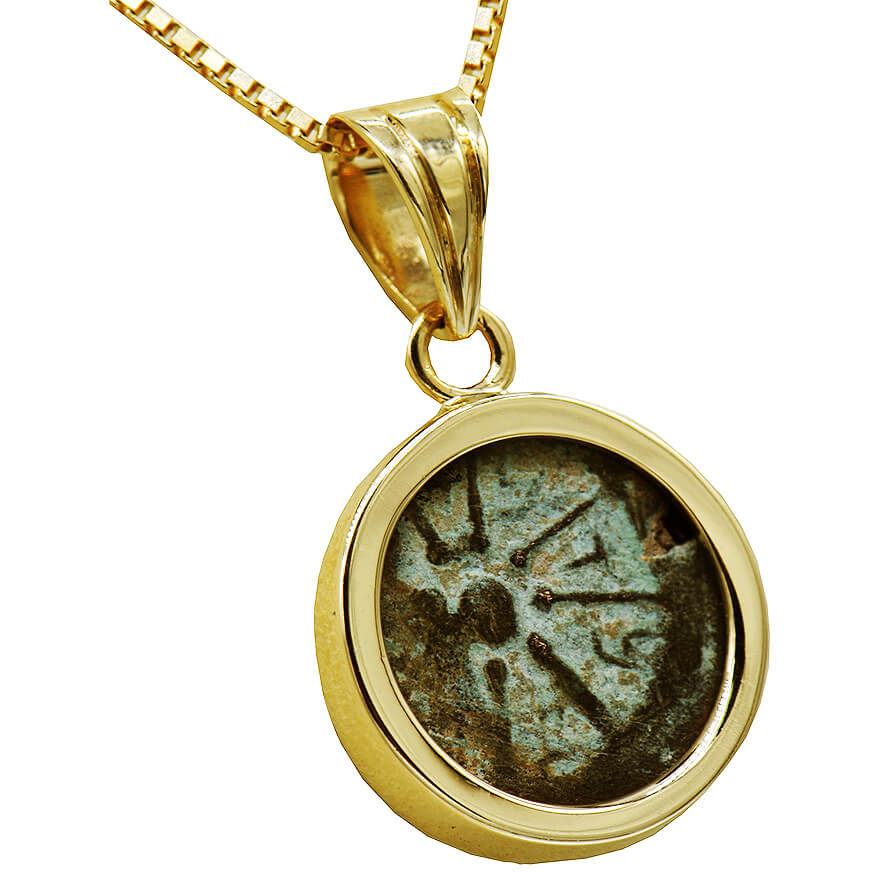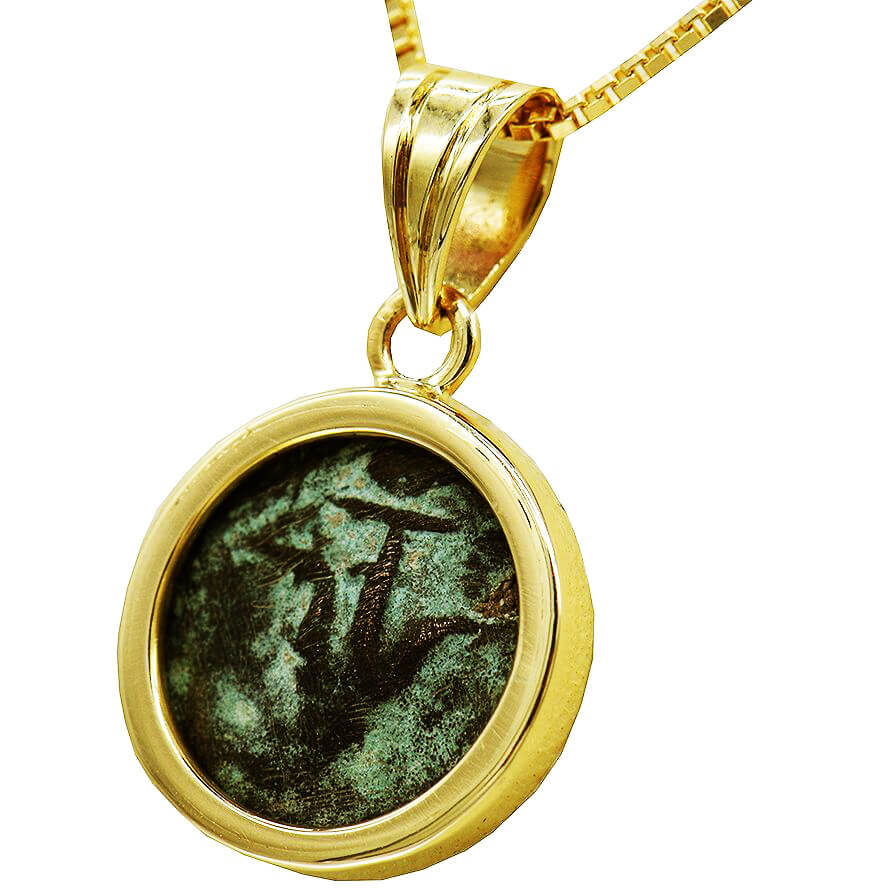 The Widow's Coin in a 14k Gold Pendant – Biblical Jewelry
$ 587.94
A coin which was mentioned in the Gospel of Luke 21.
Weight: 3.95 grams.
Size: 1.5 cm / 0.59″ inch.
Description
Additional information
Reviews (0)
Buying Guide
Description
Gold pendant with a "Widow's Mite" coin which was mentioned in the Gospel of Luke 21.
This Bronze Jewish coin was used in the Second Temple period and discovered Jerusalem Material: Bronze
Denomination: Prutah.
Ruler: Alexander Jannaeus Date: 95-76 B.C.
Mint: Jerusalem
This small bronze coin was made famous in Jesus' parable of the Widow's Offering (Mark 12, Luke 21).
Then one poor widow came and threw in two mites, which make a quadrans. So He called His disciples to Himself and said to them, "Assuredly, I say to you that this poor widow has put in more than all those who have given to the treasury; for they all put in out of their abundance, but she out of her poverty put in all that she had, her whole livelihood." (Mark 12: 42-44)
In this story, the widow gives an offering of only two small coins, worth only a fraction of a penny, yet Jesus valued her offering greater than all the others because she gave everything she had.
This coin was first minted by Alexander Jannaeus (76-103 B.C.), and was mass-produced in Jerusalem. The front contains a star design with the paleo-Hebrew characters of Jehonatan between the rays.
The back contains an anchor as a symbol of naval strength after conquering the philistine coastal cities with the Greek inscription reading, "King Alexander."
Although this coin is small and unimpressive, it is a constant reminder of Jesus' message that God values the heart and sacrifice of a person, not the outward works of people.
Gold 14k Hand made frame in Jerusalem.
Includes all needed documents of authenticity.
All jewelry shipped direct from the Holy Land.
---
Only logged in customers who have purchased this product may leave a review.