What are good gifts for baptism?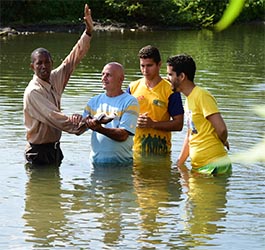 One's baptism is considered their second birth and they die to sin and rise again to a newness of life. Baptism is an occasion to be celebrated as persons choose to make a public show of their decision to become a follower of Christ, more popularly known as a Christian.
Baptism almost invariably uses of water and the rite may be performed by sprinkling or pouring water on the head, or by immersing in water either partially or completely.
So what are good gifts for a new babe in Christ? A new Bible is a good place to begin, and if it can be personalized it's even better. This way you ensure that they have their own copy of God's Word which will serve as a lamp unto their feet.
You can also add a good Devotional book along with a Prayer Journal, which can be very useful gifts for a new child of God. In addition, one can purchase an olive wood cross that can serve as their comfort during difficult moments, and double as a reminder to pray without ceasing.
Depending on your relationship with the individual, scripture jewelry are also good baptismal gifts that helps them to wear their new found faith. Baptism is a beautiful choice, and all of heaven rejoices when one comes to know God.
July 26, 2021 | Category: Christian gifts ,
Share this post