Why an olive wood gift?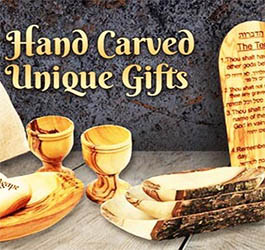 When buying a gift for someone, one considers a variety of factors. One may consider the price, the likes and dislikes of the recipient, the occasion and the significance of the gift. Even after considering these factors, one also thinks about the durability of the gift.
No one wants to gift someone with something that is broken, destroyed or useless within days or even weeks. Bearing all of this in mind, you cannot go wrong with an olive wood gift. Gifts made from olive wood are strong and built to last.
According to Encyclopaedia Judaica, "There are trees in Israel estimated to be up to 1000 years old that still produce fruit." Talk about longevity and durability.
This hard wood also has a unique grain that is beautiful to behold, with curves and waves that may run straight or interlock at intervals. This means that whether you choose to buy an olive wood cross, lock box, DIY temple set, serving bowls and spoons, you would have bought a beautiful piece for that special one.
Then there is the powerful and inspirational significance of olive wood gifts, straight from the Holy Land where Jesus lived and walked. With several biblical references to this phenomenal wood, the blessings and abundance that olive wood gifts symbolize will certainly transfer to your special one. Olive wood gifts are an unrivalled choice.
December 27, 2022 | Category: Olive Wood ,
Share this post