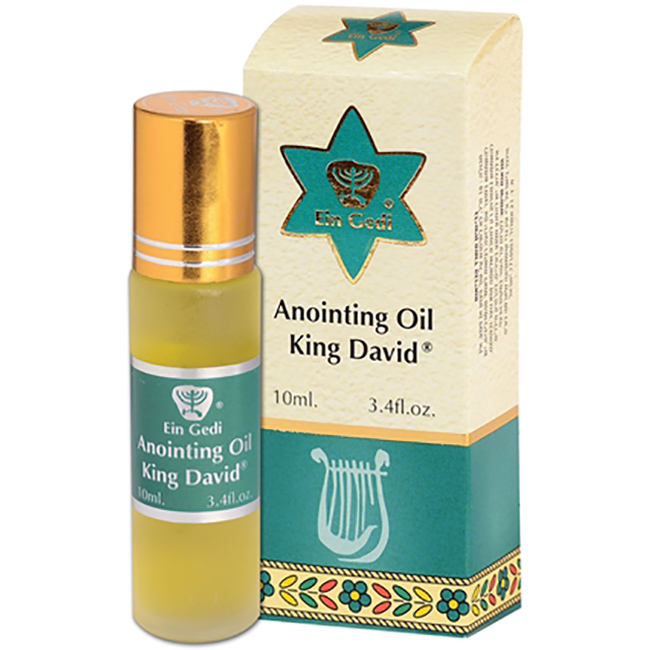 King David Anointing Oil – Roll-On Prayer Oil – 10 ml
$ 7.95
'King David' Holy anointing oil from Israel.
Size: 10 ml / 0.34 Fl. Oz.
Roll-on dispenser.
Made in Jerusalem.
Description
Additional information
Reviews (0)
Buying Guide
Description
'King David' prayer oil from Jerusalem.
Powerful anointing oil from the city of King David.
Samuel took some oil and anointed David king over Israel. The Bible says that the Spirit of the Lord rushed upon him from that day forward. This oil will allow you to remember the indwelling of the Holy Spirit within David. 
Size: 10 ml / 0.34 Fl. Oz.
Roll-on dispenser.
Made in Israel.
This anointing oil is made in the Holy Land, the land Jesus walked. Using natural, pure Galilee and Jerusalem virgin olive oils, these elements are then scented with cassia, frankincense, myrrh and biblical flowers with herb essence characteristic of the Holy Land. 
The primary purpose of anointing with the holy anointing oil is to sanctify, to 'set apart' the anointed person for ministry work and guided by HIS Holy Spirit. 
Anointing with oil under the leading of the Holy Spirit, together with repentance leads to a "setting apart" of the believer for God's purposes.
Then Samuel took the horn of oil and anointed him in the midst of his brothers; and the Spirit of the LORD came mightily upon David from that day forward. And Samuel arose and went to Ramah. (1 Samuel 16:13)
Anointing with oil, in faith and believing for the healing GOD wants in your life – you can expect miracles.
Licensed by the Israel Ministry of Health
Christian gifts shipped to you direct from the Holy Land.
---
Only logged in customers who have purchased this product may leave a review.