Why buy Jerusalem Cross Jewelry from Jerusalem?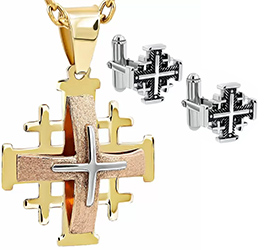 The Jerusalem Cross is composed of a large Greek cross in the center, which is surrounded by four other crosses of the same type in smaller size, called crucifixes, located in each of the quadrants delimited by the arms of the main cross.
It is usually a very important symbol in the Christian religion, since its curious shape dates back to the 11th century, with the crusades to the Holy Land. Several meanings are attributed to it, from the four evangelists or four cardinal points where the Gospels have been preached, to the five wounds received by Christ on Calvary, to others related to the figure of Jesus and the ephemeral Kingdom of Jerusalem.
Today, in the streets of Jerusalem you can find many jewelry and craft stores where Jerusalem crosses are made of sterling silver and 14k gold, depending on the work of the craftsman, with colors ranging from classic gold to red, either in pendants or necklaces.
It is an impressive gift that can be offered as a gift for a special occasion, for any religious person or family member, who will appreciate it and treasure it in their heart.
May 29, 2021 | Category: Christian gifts , Gifts for Men , Gifts for Women , Jewelry ,
Share this post