What is Roman Glass?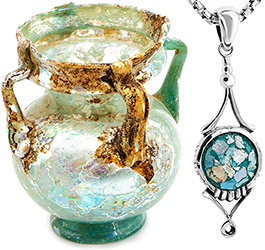 Roman glass was produced by ancient civilizations, including by Romans in the Holy Land, approximately 2000 years ago. It has been discovered in archaeological sites throughout Israel, demonstrating its extent and usefulness during Roman rule in Judea.
Each archaeological piece has faced the inclement weather to form the particular colors and textures that each piece takes on. Just as a spiritual person makes a long journey through the Holy Land, so too Roman glass is shaped according to each landscape in Israel, making each piece of Roman glass unique and unrepeatable.
It is unmissable for you to pass through Jerusalem and not admire the rich handcrafted glass, as well as purchase the beautiful Roman glass jewelry and accessories to decorate your home. Without a doubt, this will be a beautiful gift for anyone who truly appreciates the ancient tradition of Roman glass making.
May 29, 2021 | Category: Christian gifts , Gifts for Men , Gifts for Women , Jewelry ,
Share this post