Praying over your house with oil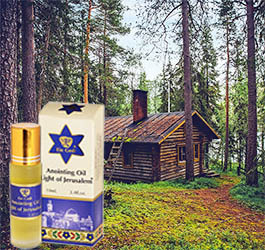 Naturally, we all take measures to protect our homes and our assets. It is for this reason that we have doors and grills, padlocks and even complex security and camera systems.
In Psalm 91 we are promised protection from when we dwell in the secret place of the Most High.
We are promised protection from pestilences, terrors by nights, arrows by day, lions and even dragon, however one must claim this protection over your home. One perfect way to do this is to pray over your house with anointed oil.
This is an act of consecrating your home and inviting the Holy Spirit to cleanse and make your space holy. Some persons like to use extra virgin cold-pressed oil for this purpose, since it is the purest form of oil available. Many however prefer to buy an oil that is already scented with frankincense and myrrh, which already has their own biblical significance.
As you prepare to pray over your house with hold, you need to first remove all evil roots like books and movies which are not Christ like. You can then pray aloud in every room and rebuke the power of darkness as you place oil on every door and window frame.
By faith, you then claim God's supernatural protection over your home.
July 9, 2021 | Category: Anointing Oil ,
Share this post