Must have gifts for women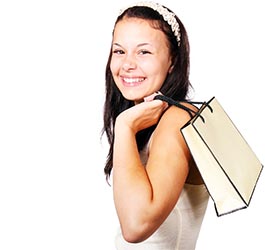 A woman will already own ten handbags, but she still does crazy over the leather one that you got her. This could be because of the brand, the material quality, the unique design, the fact that it's a handbag from Jerusalem, or the fact that someone special gave it to her.
The truth is that women love gifts, and there are some gifts that are a must-have for them. Personalized jewellery is a good place to start. Whether you will use a place of significance (like where you met, or a birthplace), a significant date: birthday, anniversary, her name or your initials, there are a million and one ideas when getting a woman, personalized, engraved jewellery.
Then you can top that off with a diamond piece no woman can resist. Don't forget to add some luxury cream and body care products with her favourite perfume in the mix.
Then there are gifts for home décor that will bring a smile to her face. Whether it is a wall hanging, uniquely designed, a plaque, a photo frame or a beautiful olive wood or Armenian ceramic serving bowl that doubles as a centre piece, women adore home décor.
Finally, you can definitely add some scripture scarves, if you know her colours and a few accessories that helps her with grooming and self-care; a woman's dream.
July 25, 2021 | Category: Gifts for Women ,
Share this post