Bible stories carved from olive wood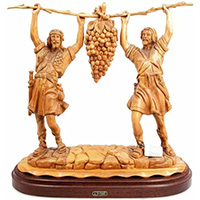 It is not only during the Christmas season that nativity scenes are made with olive wood. There are expert artisans who are dedicated to the realization of engravings and carvings of different scenes and biblical passages.
Some choose to engrave Noah and the flood, others engrave passages from David's life as a shepherd in the field, others engrave passages from the Gospels such as Christ calming the storm or Peter walking on the waters at Christ's command.
Each of the scenes involves different styles and engravings, but all are made from olive wood, the biblical symbol of peace. Part of this process is the preparation of the wood, specifically the branches, which can take up to 3 years and is then slowly dried to preserve the wood's characteristic grainy color.
Once prepared, it is cut, sanded to leave it smooth and then cut to make the mold for the figurines or engrave on it the biblical scene to be represented. Finally, a personal greeting is written on it.
These carvings are special gifts both at Christmas time and at any time of the year, as long as the biblical meaning of the scene depicted is remembered. Undoubtedly, an excellent gift to share with the family.
May 29, 2021 | Category: Christian gifts , Olive Wood ,
Share this post